Dental Services Chatsworth, CA
We offer comprehensive dental services for families throughout Chatsworth. We understand that you have many options in dental care and aim to provide you with the highest quality of care possible. By leveraging modern dental technology and having a highly trained staff, we can ensure that you and your family stay in excellent oral health. Dr. Yury Bershadsky practices gentle dentistry and will ensure that your experience is positive and that you stay comfortable during your dental treatments. When necessary we can provide you with sedation or help you relax with friendly conversation.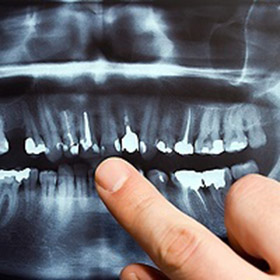 At L.A. Dental Arts, we offer flexible appointment times because we understand how busy life can be. Whether you are a busy professional or a mom on the go, we can work with you to arrange a time that is convenient for your schedule. If you have multiple family members that need to have their teeth cleaned, let us know. We can try to arrange everyone's appointment for around the same time so that you only have to visit the dentist twice a year, instead of multiple times.
Our Dental Services
If you are looking for a Chatsworth dentist that can prevent infections, treat them, and beautifully restore or transform your smile – we offer all of those solutions as part of our dental work. If you live or work near the 91311 area, we invite you to call (818) 709-6713 and schedule an appointment. During your initial examination, we will inspect your teeth and gums to determine if there are any cavities or if an infection is present. Early detection is important because it allows us to provide treatment before you experience any discomfort. Unlike other physical ailments that may not manifest until you are in pain, oral health problems show signs along the way and as a dentist when we see those signs we can prevent you from getting a full-blown infection by providing early treatment. For this reason, we recommend that you schedule a dental exam for twice a year.
In addition to examining and cleaning your teeth, we offer dental services to restore the health of any infected teeth as well. Whether this involves treating a cavity, performing a root canal or deep cleaning the gums, we can do so while keeping you comfortable by using some form of sedation. While you are relaxed, we can complete the treatment so that you can leave in better health than when you came in.
If you are looking for restorative or cosmetic work, we can help with that as well. People throughout CA trust Dr. Yury Bershadsky to beautifully transform their teeth and their smile. In many cases, this involves restoring a tooth that has been cracked or chipped while playing sports or in an accident. Other times, patients request a full smile makeover to close gaps in between teeth, change their shape or size, whiten their teeth, cover dark stains, straighten them, or replace missing ones. Whatever the case may be, we have the skills and experience to successfully complete the transformation and restore your teeth to good health in the process. For more information or to schedule an appointment with L.A. Dental Arts call 818-709-6713.
The Success of the All-on-4® Procedure in Our Chatsworth Dental Office
All-on-4® dental implants have a success rate of 98%. What this means is that you have a 98% probability of leaving our Chatsworth offices with a perfect set of teeth that are permanently attached to your jawbone. To discuss how successful the procedure may be for you, call (818) 709-6713.
The Process of Getting All-on-4® at L.A. Dental Arts
Typically, the surgery takes approximately two and a half hours per arch you can get your All-on-4® dental implants installed on your upper lower or both arches at the same time. The process of getting All-on-4® dental implants can be laid out in six simple steps. The first step is to have a detailed examination where we will look at your records, your existing conditions, whether you have a denture, what your facial structure needs are, and any other factors that could come into play when placing your dental implants. The second step typically involve CT scans, which are 3D pictures, of the jawbone including the position of the teeth to be replaced and giving us critical information about where the bone sinuses and nerves are located for the implants. Next, our dentist will create a computer simulation of the implants which are digitally positioned into the jawbone at the appropriate location to give you the most support you can get with your replacement teeth. All of this is adjusted as need be and allows for the fabrication of your new set of teeth. Finally, the most important step is the oral surgery. When you come in for surgery, we will provide you with anesthesia and then place the dental implants directly into your jawbone, so that your new set of teeth can be secured in place.
Schedule a Consultation
At L.A. Dental Arts, we can replace your teeth with this convenient and innovative procedure. To discuss the many benefits or to get started, call 818-709-6713 and schedule an examination and consultation with our Chatsworth, CA dental office.
HELPFUL RELATED LINKS
ABOUT OUR BUSINESS, LICENSE, AND WEBSITE SECURITY
L.A. Dental Arts was established in 1998
We accept the following payment methods: American Express, Cash, Check, Discover, MasterCard, and Visa
We serve patients from the following counties: Los Angeles County
We serve patients from the following cities: Chatsworth, Canoga Park, Northridge, Woodlawn Hills, Simi Valley, Reseda, Tarzana, Calabasas, West Hills, Porter Ranch, Winnetka
Back to top of Dental Services
Best Dental Care in Chatsworth, CA